Skip to end of metadata
Go to start of metadata
Create your first ML model
Consider the following sets of numbers. Can you see the relationship between them?
As you look at them, you might notice that the value of X is increasing by 1 as you read left to right and the corresponding value of Y is increasing by 3. You probably think that Y equals 3X plus or minus something. Then, you'd probably look at the 0 on X and see that Y is 1, and you'd come up with the relationship Y=3X+1.
That's almost exactly how you would use code to train a model to spot the patterns in the data!
Now, look at the code to do it.
How would you train a neural network to do the equivalent task? Using data! By feeding it with a set of X's and a set of Y's, it should be able to figure out the relationship between them.
Code (Python)
import tensorflow as tf
import numpy as np
from tensorflow import keras

model = tf.keras.Sequential([keras.layers.Dense(units=1, input_shape=[1])])

model.compile(optimizer='sgd', loss='mean_squared_error')

xs = np.array([-1.0, 0.0, 1.0, 2.0, 3.0, 4.0], dtype=float)
ys = np.array([-2.0, 1.0, 4.0, 7.0, 10.0, 13.0], dtype=float)

model.fit(xs, ys, epochs=500)

print(model.predict([10.0]))


Run it in Colaboratory
Browse to https://colab.research.google.com/notebooks/welcome.ipynb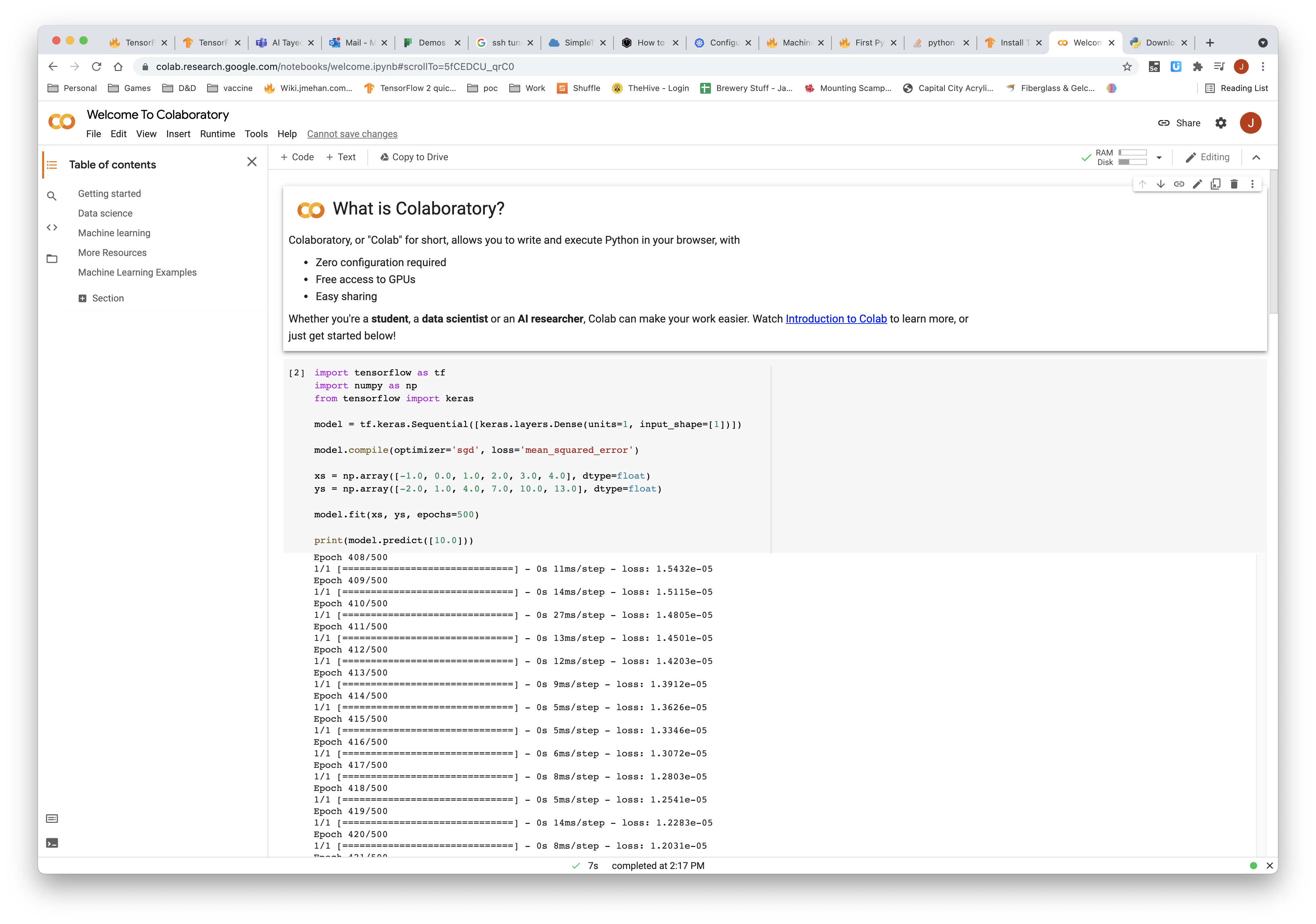 Past in your code and click run.
Output
Epoch 1/500
1/1 [==============================] - 0s 217ms/step - loss: 110.2153
....
Epoch 500/500
1/1 [==============================] - 0s 4ms/step - loss: 2.2867e-06
[[30.995588]]
For 10, the prediction is 30.995588
which is close to the expected Y= 3X+1 = 3*10 + 1  = 31
Run it Locally
You may need to update pip3, etc... 
$pip3 install --user --upgrade pip
Install tensorflow
$ pip3 install --user --upgrade tensorflow
Run code
> python3 <file>
$ python3 simplePredict.py
...
Epoch 500/500
1/1 [==============================] - 0s 640us/step - loss: 1.7887e-06
[[31.003902]]
References